Beach Croatia Golden horn - Bol - Beach Croatia Pakleni islands Hvar Croatia
Overall results of best beaches of Croatia review for categories: best family beach, best romantic beach, best party beach, best sandy beach Croatia..... best hidden beach, best nude beach, best windsurfing beach, best diving beach, best beach promenade and best Blue Flag beach are:
1. Zlatni rat - Golden horn beach Bol island Brac
Travelers come to the no.1 resort of the Adriatic - Bol because it's next to Zlatni Rat Golden Cape, Croatia's most famous beach. It looks extraordinary with banks of pebbles flank a pine wood and then poking out into the clear blue see. The beach changes shape depending on the wind. A pine forest provides nice shade. Expect crowds in high summer and also nudists on its west bank when thousands of tourist come each day on boats from Hvar and other Croatia islands. Center of Bol is one mile from Golden horn. You can get there by small taxi boat, tourist train or walking along the paved promenade through lovely pine forest. You'll pass other shingle strands used by windsurfers. Bol is the main centre in Croatia for windsurfing and kitesurf. Cut off from the rest of the island of Brac by a 800m big mountain ridge Bol is beautiful. Old stone houses along its long waterfront past a couple of striking stone sculptures. Beyond the harbor is a 15th century Dominican monastery above a magnificent pebble beach.
Golden horn is a winner in best beaches of Croatia following categories: best family beach, best romantic beach, best nude beach, best windsurfing beach, best beach promenade and best Blue Flag beach.
2. Pakleni islands beach Hvar island Hvar
Hvar is one of the best of all the Croatian islands and has been a favorite getaway in turbulent history. Today it is one of the most visited tourist centres in the Adriatic. The most popular beaches of the town Hvar are situated on the Pakleni islands archipelago that is the part of the Riviera Hvar connected by frequent taxi boats from the Hvar harbor. Pakleni islands have many small secluded beaches: Sv. Jerolim naturist beach, Marinkovac, Stipanska, Zdrilica, Mlin, Sv. Klement (St. Clement) Palmizana with thick pine forest, fragrant heather and rosemary shrubs and a number of exotic plants.
3. Banje beach Dubrovnik
Banje beach is the most famous Dubrovnik pebble beach with a beautiful view to the old town Dubrovnik. It's a place to see and to be seen where the rich and beautiful come to get some tan. The beach has restaurant caffe bar just above the beach, filled with modern white low chairs and curved couches also deck chair and sun umbrellas rentals luxurious baldachins for rent etc. Famous East West Beach Club is situated on the beach front. Movie stars, international sportsmen and world artists visiting Dubrovnik are daily visitors of this magnificent beach.
4. Brela beach Makarska Riviera
The 40 km long Makarska Riviera has many numerous pebble beaches with smooth white pebbles and sandy areas. Pine's and olive woods are on the land between the Biokovo mountain and the sea. Some of the beaches extend for kilometers like 2km long beach Brela.
5. Bacvice beach Split
Main beach in Split is sandy beach Bacvice famous by unique Picigin game played with a small ball in a few centimeters shallow water. It's a city beach, situated few minutes walk from Split center with lots of restaurants, café bars and even nightclub. The beach has lifeguards, facilities for disabled, renting facilities, catering facilities, showers, lockers etc. and it has been awarded with the Blue Flag.
6. Stiniva beach Vis island
Vis further offshore than any inhabited Croatian Adriatic island. One of the most beautiful beach on island Vis is Stiniva, hidden beach situated on the south coast of the island. It is a beautiful pebble beach with sandy areas.
7. Bisevo, Cres, Dubovica, Korcula, Peljesac, Vela luka, Lokva rogoznica, Baska beach Croatia
Pictures below are Bisevo, Brsec, Cres, Hvar Dubovica, Korcula, Lokva rogoznica, Peljesac , Split Kasuni and Stara Baska beach in Croatia.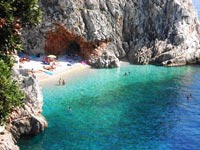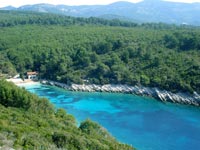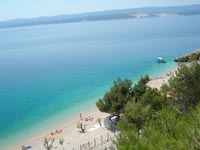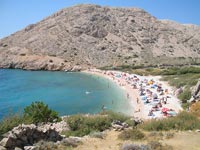 Do you know where is this sandy beach on the picture below? Contact us and find out.
Beach Croatia Golden horn - Bol - Beach Croatia Pakleni islands Hvar - Beach Croatia Banje Dubrovnik