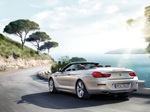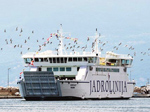 If you arrive by car to Split or Makarska take a ferry to island Brac...
If you are driving a car to Split there are many ferry lines Split-Supetar, departure from 05.15 in the morning till 23.59. And it is easy to find ferry port in Split, just follow the traffic signs from the entrance in town and in 10 minutes you will be in Split port. The distance between Supetar and Bol is 37km. You can get to Bol in approximately 35min.
If you are driving a car from Dubrovnik it is easier to take a ferry Makarska-Sumartin. Ferry departure five times a day in peak season. You will save at least 1 hour drive from Makarska to Split and the distance between Sumartin and Bol is only 22km. You can get to Bol in approximately 25min.
Ferry schedule for both lines you can find at
BY BOAT
page.
If you miss a ferry in Makarska during low season, you can continue driving to Split (cca 60 minutes), with more frequent connections with Supetar and island of Brac.
When you come in Bol it is easy to find Zlatni Bol Apartments... located at the west side of town in direction of Zlatni rat beach.
On the main crossroad in Bol, big one with grass, flowers and small dolphine sculptures, turn left and after just 50 meter on the right side is Ivana Gundulica street and Zlatni Bol Apartments. White house with stone details, green windows and private parking places in front of it...
BOL MAP - Zlatni Bol apartments location

You can reach Split from various directions:
- From Zagreb through the inland (Zagreb - Karlovac - National Park Plitvicka jezera- Knin - Sinj - Split)
- The Adriatic Highway (Rijeka - Zadar - Šibenik - Split)
- Highway Dalmatina, Zagreb (Rijeka) -Split
SPEED LIMITS in CROATIA
50 km/h - within settled areas
90 km/h - outside settled areas
110 km/h - on major roadways designed exclusively for motor vehicles, and on highways
130 km/h - on motorways
80 km/h - for motor vehicles with a caravan trailer without brakes
80 km/h - for buses and buses with a light trailer; on motorways, buses are allowed to drive up to 100 km/h, except for those buses carrying children
Please reduce and adjust your speed in wet road conditions.
CROATIA TRAFFIC INFO
Roadside assistance Hrvatski Autoklub (HAK) 10010 Zagreb, Avenija Dubrovnik 44, P.O. Box 240
Tel +385 (0)1 66 1 1999 / 1987 (Road assistance)
Fax +385 (0)1 66 23111 / 66 03287
(Road assistance) E-mail : hak@hak.hr
How to come to Bol Croatia and island Brac by car