Apartments Zlatni Bol Map location. Bol Map island Brac Croatia
Brac is the largest Dalmatian island with an area of 394,6 km2. It stands lake a massive ship in the picturesque archipelago of the Dalmatian islands. There are about twenty towns on the island today and Bol is the most famous among them. Bol is the first and the oldest little island town on the coast. It didn't take the usual position like other coastal towns in the amphitheatrically slopes of the protected bays, but it stands alone and separated on the southern, open part of the island, with the beaches connected like necklace of pearls. Above Bol there stands a mountain crown Bolska kruna, fortified Kostilo, with an Illiryc gradin (660m) and Vidova gora (778m), the highest peak of the Adriatic islands.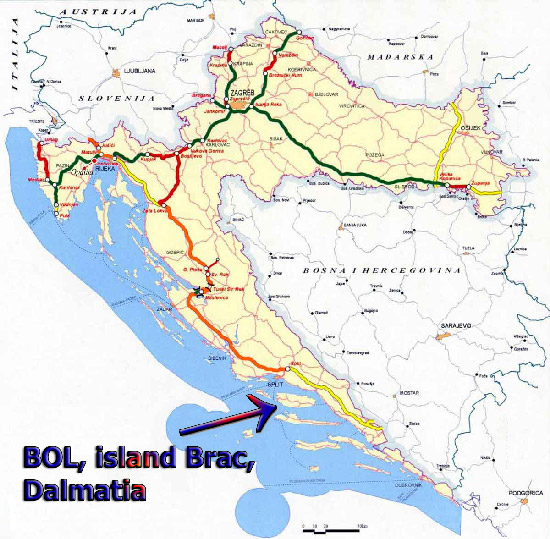 Bol is situated in a secluded place, on the southern coast of Brac and Bol is the oldest town of Brac and one of the most famous seaside resorts in Croatia. Apart from cultural monuments, Bol also features a number of natural beauties. East and west of Bol are numerous shores, beautiful beaches; the most famous - and probably the most beautiful on the Adriatic Zlatni Rat beach. This pebble cape is a unique phenomenon - it stretches into the open sea in the shape of a tongue, with its tip changing the form and moving to one and another side, according to the direction of winds and waves.
View
Zlatni Bol apartments
in a larger map
Bol map, Bol Croatia Map, Bol maps, Bol Croatia Maps, apartments Zlatni BOL, Bol, Croatia