Dear Guest, we received Your request and we'll send you reply soon as possible.
SPECIAL OFFER JUST FOR ZLATNI BOL APARTMENTS GUESTS
1. RENT'A SCOOTER -
HONDA SH150 40EUR/DAY-20% ...
or
SYM JET 50 35EUR/DAY-20%
If you pay the deposit for apartment reservation and at least one day scooter rental together, you have 20% discount on scooter rental price during your whole stay at Zlatni Bol apartments.
For Honda 150 you need to have valid driver licence for that category.
2. WINDSURFING - LEARN HOW TO WINDSURF - 120EUR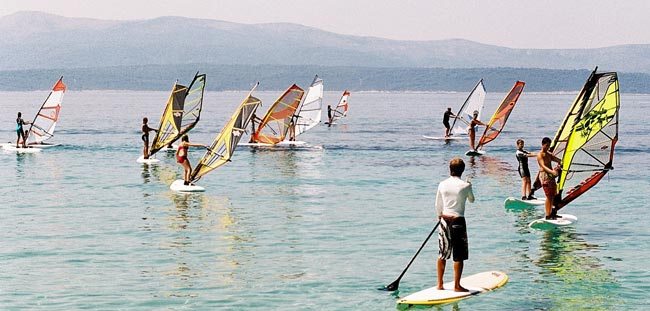 The package is based on a six-hour course in small groups with instructor in terms 20.04. - 20.06.2013. and from 05.09. – 15.10.2013. After the instructor determine that a student is able to independently manage the board, the student is entitled to unlimited use of the board within that week. You can also use a kayak or mountain bike within that week.
3. MOUNTAIN BIKE RENTAL -
BOTH MOUNTAIN BIKE and SEA KAYAK - 80EUR/WEEK
or

40EUR/3DAYS
The package is based on weekly rent a mountain bike. Specialized and Cube Bikes (Models 2013).
The user gets the bike, helmet and bicycle map of the island of Brac.
4. GARAGE IN BOL - RENT A GARAGE BOL 20EUR/DAY-20%
Zlatni Bol apartments Guests can rent new garage near promenade in Bol for 16EUR a day.
It is 22m2 garage with Hörmann remote door and parking place in front. It is big enough for a car, scooter and 2-3 bikes...
5. PARKING IN BOL - FREE of CHARGE for ZLATNI BOL GUESTS or 30EUR/DAY for others
Zlatni Bol apartments Guests can have private parking place for free and other car owners can rent if for just 30EUR/day.

bol discount windsurfing, bol discount diving, bol discount mountain bike, bol discount kayak, bol discount rent a car, bol discount rent a scooter