Beachfront VILLA PUNTINAK Sumartin
-
Beachfront VILLA MIKA Sumartin
-
VILLA BRAC Bol
-
VILLA CLIVE&KLAUDI Bol
Luxury beachfront VILLA PUNTINAK in Sumartin with 7 bedrooms, 7 bathrooms
Villa Puntinak is located right by the sea in Sumartin on island Brac. Property has 1100 m2, and the villa occupies an area of 400 m2 and extends over three floors: ground, first and second floor. It has 7 bedrooms, 7 bathrooms and is suitable for accommodating 14 people.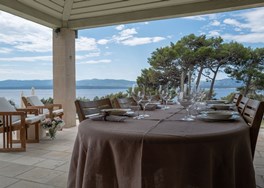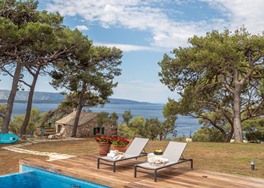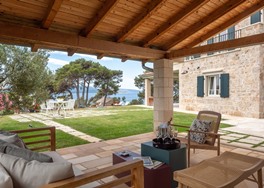 It have terraces with a breath-taking sea view. At the exterior of the villa dominates the spacious stone terraces. On the main terrace there is a swimming pool and outdoor furniture for relaxation during the hot summer days. On the ground floor there are 3 luxury bedrooms, two with double bed and one with two single beds, all three with bathroom. There is also a spacious living room with a seating area and an LCD TV / DVD and a large kitchen for 14 people. The stone steps lead to the entrance to the villa on the first floor, where there are 2 luxury bedrooms, one with king-size bed and one with two single beds plus two bathrooms. There is also a living room, kitchen and a large terrace with a beautiful view of the sea, Hvar and Peljesac. On the second floor there is a main room with king size bed, large toilet with a shower and a bath, a living room and a terrace with the most beautiful view in Sumartin ... In the mezzanine of the luxury villa Puntinak there is a fully equipped apartment with king size bed, small living room, kitchen and a separate entrance, ideal for service or support staff. Around the villa there are 3 spacious relaxing terraces, but also for enjoying the preparation of various culinary specialties. Behind the villa is a beautiful cascading garden.
In front of the villa is a solar heated swimming pool (8mx4m) and fully equipped kitchen with BBQ and covered dining area is on the north side. Should you wish to go to the beach it is just 20 meter from us. Our address is Put puntinka 24.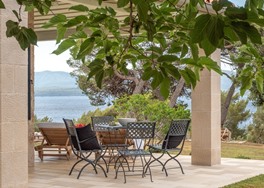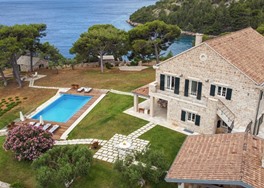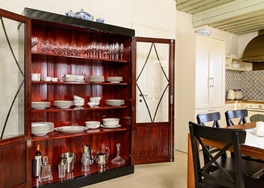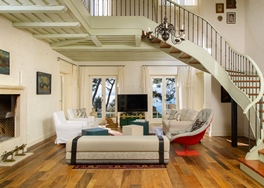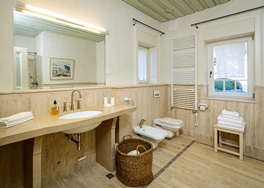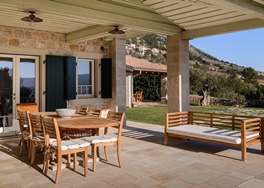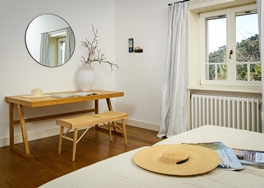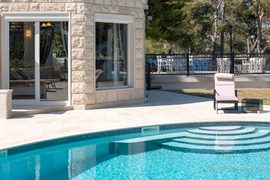 Sumartin on the eastern coast of Brač is a real small tourist oasis in the heart of untouched nature and ideal for a peaceful summer vacation. Just 1km from picturesque settlement Sumartin is a luxury Villa Puntinak, where all the beauties of the island of Brac are gathered in one place, surrounded by lush Mediterranean vegetation and nature. Villa Puntinak is situated by the sea, and because of the beautiful environment and location, the villa fully fits the surrounding landscape while it grows out of the bracing stone. The modern and luxurious interior offers a high level of luxury and comfort. This villa will give you a perfect holiday in complete privacy, fairy tale atmosphere and authentic island atmosphere.
Prices are in euros and are based on a one night or week rental. Minimum stay is 7 nights in high season, 5 nights in low season.

Once you have confirmed your booking you are required to pay a 30% deposit. All payments are via bank transfer. The price includes all utilities, house and pool towels, a week linen change and the final cleaning.
email: questions and reservation: info@zlatni-bol.com
phone: 00385 91 2244701
LUXURY BRAC d.o.o.
Ivana Gundulica 2
21420 Bol island Brac Croatia
Beachfront VILLA PUNTINAK Sumartin
-
Beachfront VILLA MIKA Sumartin
-
VILLA BRAC Bol
-
VILLA CLIVE&KLAUDI Bol